Reading at Thames View

As a school, we believe that creating a culture of reading is a vital tool in ensuring our children are given the best life chances. Cultivating readers with a passion for a wide range of materials will ensure that children's love of reading will extend far beyond the classroom and allow them to build on their skills independently through a real curiosity and thirst for knowledge.
We believe that the following principles are at the forefront of our approach to reading.
We develop our understanding and command of the English language through our experience of and exposure to challenging texts
We recognise that reading comes in many forms and essential to everyday life
We use 'close reading' to interrogate texts through rigorous study
We are enthused and stimulated by what we read and use the ideas and techniques that we have experienced when reading to inform our own written work
VIPERS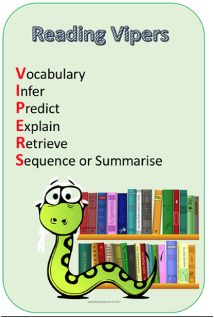 Throughout the school, we use Literacy Shed VIPERS. Children need to be aware of the reading skills they are using in order to give them a greater understanding of what makes a well-rounded reader. Instead of having a long wordy objectives, we can break them down into 6 simple words using Reading Vipers.
The Reading Vipers can be used by both KS1 and KS2 with a little adaptation. The main difference being in the 'S'.
KS1 - Sequence
KS2 – Summarise
In Thames View Primary School, we use whole class reading as our main form of direct teaching. This allows all children to engage in high quality texts and is in place fully by KS2. As the children enter KS1 and become more confident readers, whole class reading structures are developed and put into place.
What do we read?
Throughout the children's time at Thames View Primary School, they will have opportunities to listen, respond and engage with a wide variety of key texts, authors and poets. The texts the children are working with is constantly being reviewed to ensure that we keep up to date with modern literature.
Here are some examples of key texts:
Key Stage 1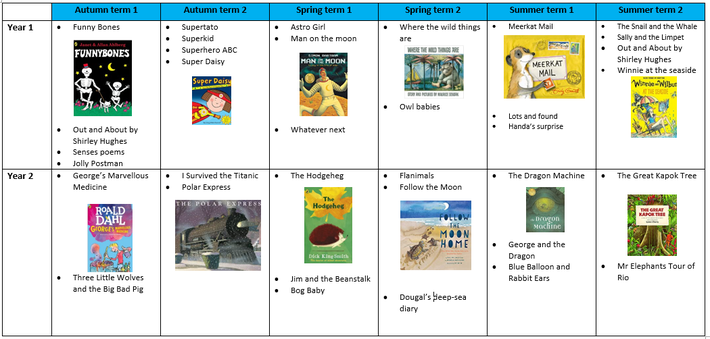 Lower Key Stage 2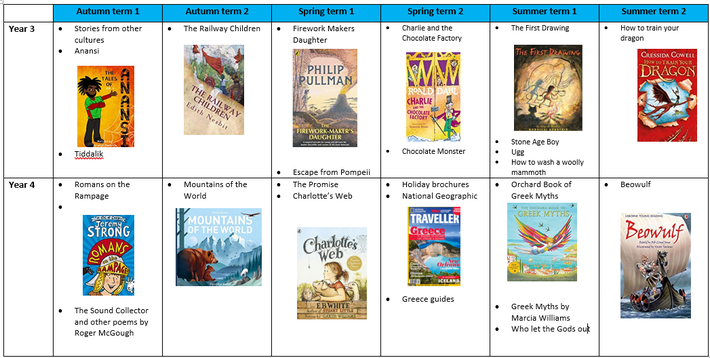 Upper Key Stage 2
How we do we teach Early Reading?
We use the Letters and Sounds programme to promote early reading through a systematic synthetic approach. More information can be found in our Phonics section. The phonics programme is supported by a reading scheme developed by staff at Thames View Primary to ensure each reading band matches their phonics phase. Each child will be placed onto a reading band and move from Lilac Starfish through to White Bears. Throughout their time in KS1, children will read regularly to adults on a 1-1 basis to support their reading skills and fluency. As children move into KS2, children are supported as they move onto 'free readers'. Staff support children in choosing engaging, challenging and appropriate texts in order to continue their embedding of reading skills but also secure a 'love of reading'.
"As pupils move into key stage 2, teachers select books that challenge pupils' thinking. They ask questions that probe pupils' understanding and develop their reading skills well. Pupils develop positive attitudes to reading." - OFSTED 2020
Enriching the reading curriculum
We are currently in the process of upgrading and revamping our school libraries to create some shared reading areas. This will support reading for pleasure and ensure time is allocated for children to read within the school day. Classrooms have reading areas which have key texts to support curriculum and high expectations for each year group.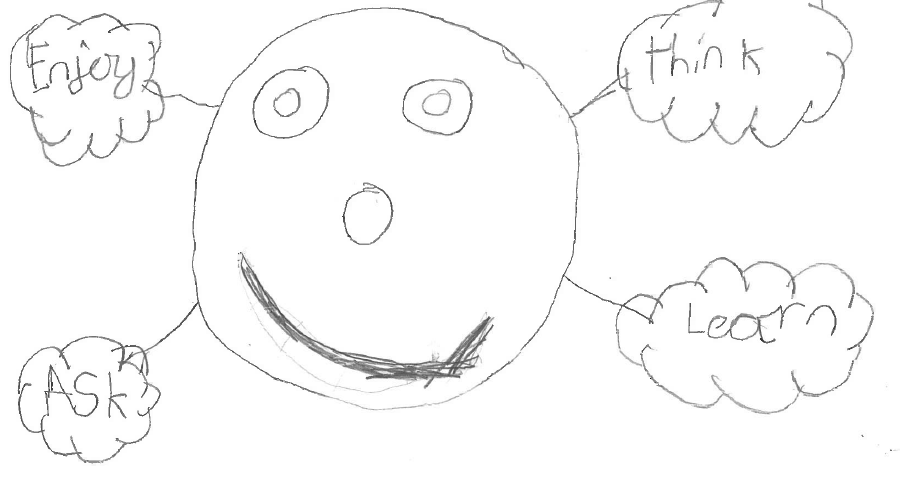 At Thames View Primary School, we also have additional opportunities to further enhance reading opportunities for our children: engaging with World Book Day, Book themes across the school and sponsored reading events to name a few.
How can you help your child?
To support their reading journey your child will bring different sorts of books home from school. When your child is in the early stages of learning to read you can help by encouraging them to sound out the letters in words and then to 'blend' the sounds together to make a whole word. You can hear how to say the sounds correctly by searching on YouTube for 'Letters and Sounds Pronunciation' video.
Sometimes your child might bring home a picture book that they know well, encourage your child to tell you the story out loud; ask them questions about things that happen or what they think about some of the characters in the story. We assess the children's progress regularly and send home books that are matched to their ability. Children are always encouraged to read novels and other materials in addition to their school reading book to supplement their reading habits.