Intent
We are passionate about providing exciting and enriching Musical opportunities for children here at Thames View Primary School. From Year R to Year 6, we aim to give children a varied and lively Music curriculum that fosters a genuine love for the art form. Music is a fantastic way to build community, develop creativity and explore self-expression. Our vision is that all children, by the time they come to leave Thames View Primary School will have experienced a wide variety of musical genres and have had the opportunity to learn a range of different instruments, both individually and as part of ensembles.
Skill Progression
Our core Music Curriculum has been created to allow the children to learn the following skills:
KS1
Using voices expressively
Playing tuned and un-tuned instruments
Listening with concentration and understanding
Experimenting, creating, selecting and continuing sounds
KS2
Playing and performing
Improvise and composing music
Listening with attention to detail and recording sound
Using and understanding staff and other musical notation
Appreciating and understanding a wide range of live and recorded music
Developing an understanding of the history of music
Our new Curriculum is evolving and developing all the time. For a detailed breakdown of how different Music Skill are addressed at Thames View Primary, see the following document:
Charanga Music Curriculum
Where at all possible, teachers endeavour to make links to our Topics when planning Music Curriculum. We are however delighted to have access to the Charanga Music Curriculum as a means to support and enrich our music offer. Charanga is an online Music resource that covers all areas of musical learning relevant to the pupils. It is very popular with children and adults alike.
Everybody is excited when we have our Charanga Music lessons. We have so much fun singing all the different parts and even dancing along. My favourite song so far this year is 'Happy" because it is so upbeat!

Year 6 Pupil
Music Overview (Charanga Music Units)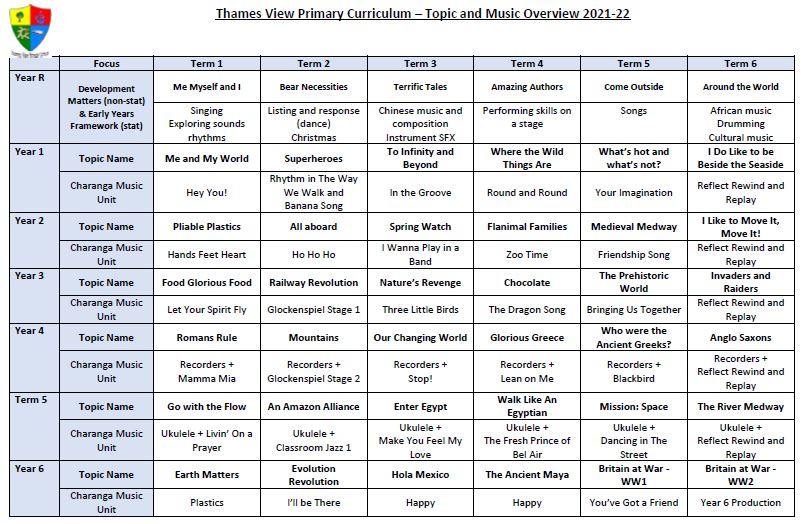 It's fun to sing in assemblies. It's fun to be active! Sometimes we sing along to the guitar and sometimes we sing along to backing tracks. I like it when we do actions to help remember the words.

Year 5 Pupil
The children here at Thames View Primary enjoy weekly singing assemblies and love to give full and heartfelt performances. Additionally, we endeavour to plan many singing opportunities in our daily lessons, for example to help us learn Maths and Topic facts. The school is signed up to the 'SingUp' music resources where we find many of our fun Topic themed songs.
Though paused for the last year or so, we have a school choir that has performed in MMA concerts at Rochester Cathedral and Chatham Central Theatre. The choir will be restarting in Term 4 (2022).
If I had to describe the choir, I would say: amazing, super and fun! We are really looking forward to our performance at the Cathedral this year!

Year 4 Pupil
Instrument Tuition
We have strong links with Medway Music Association and are visited each week by a dedicated Music Specialist. Wider opportunity music projects occurs in Year 3, 4 and 5. The children learn:
Additionally, we offer small groups lessons in:
These lessons are very popular, so we are currently exploring how we can extend this offer to include more pupils. Our goal this year is in increase children opportunities to showcase their instrumental skills in more assemblies.
It's fun to learn guitar. I have learnt new notes, chords and songs. Now I can play a song and sing at the same time!

Year 4 Pupil
Performances
Children are encouraged to develop their confidence through many performance opportunities in their time at Thames View School. This includes: Harvest Festival, Christmas Concerts, Visitor assemblies, Parent Assemblies and end of term/year Pantomimes and Shows. The children in Year 6 look forward to their end of year performances and Year 3 work towards a performance at the end of term two.
I'm looking forward to singing the songs when we perform 'Dick Whittington'. It makes me feel a bit nervous but it is fun to learn them.

Year 3 Pupil