Welcome to Year 3!
Opal Class
Teacher: Mr Gates
Teaching Assistant: Mrs Inkpen
Topaz Class
Teacher: Miss Bradshaw
Teaching Assistant: Mrs Smart
Our new Topic in Term 5 is: 'The Stone Age' and we are so excited for the children to get to grips with it. Packed full of interesting facts and creative experiences, the children are sure to be enthused by the fantastic topic. Take a look below at exactly what Year 3 will be learning about in Term 5: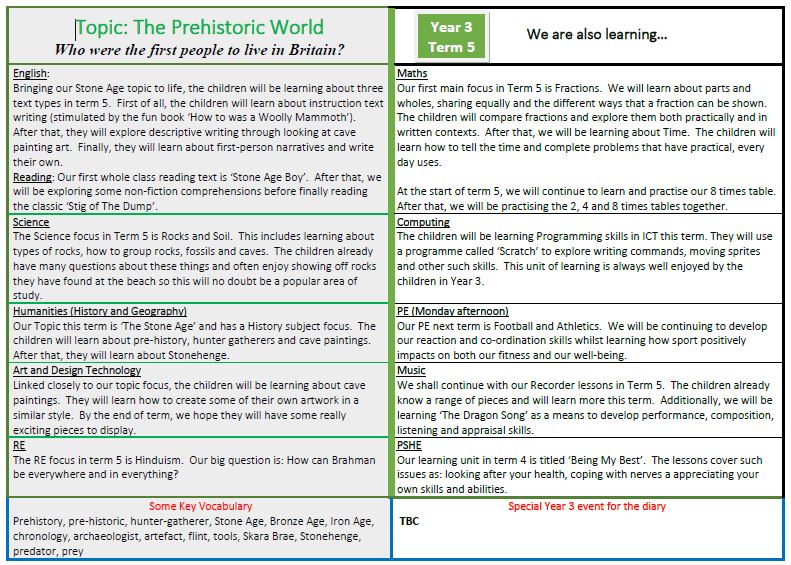 Term 5 Topic: THE PREHISTORIC WORLD (Who were the first people to live in Britain?)
This term has a History focus. The children's learning includes pre-history, hunter-gatherers and an exploration of artefacts. Amongst other things, we have some excellent texts that we will be reading and the children will be investigating cave paintings.
Home Learning
Thank you so much for supporting the children with all the Home Learning, Spellings and Times Tables! Our Year 3 parents have been fabulous! Every week we have marvelled at the amazing things the children have achieved in their home learning so thank you! We hope the children continue to be so enthusiastic about their learning. Here are some examples that we especially enjoyed (but they were all excellent!):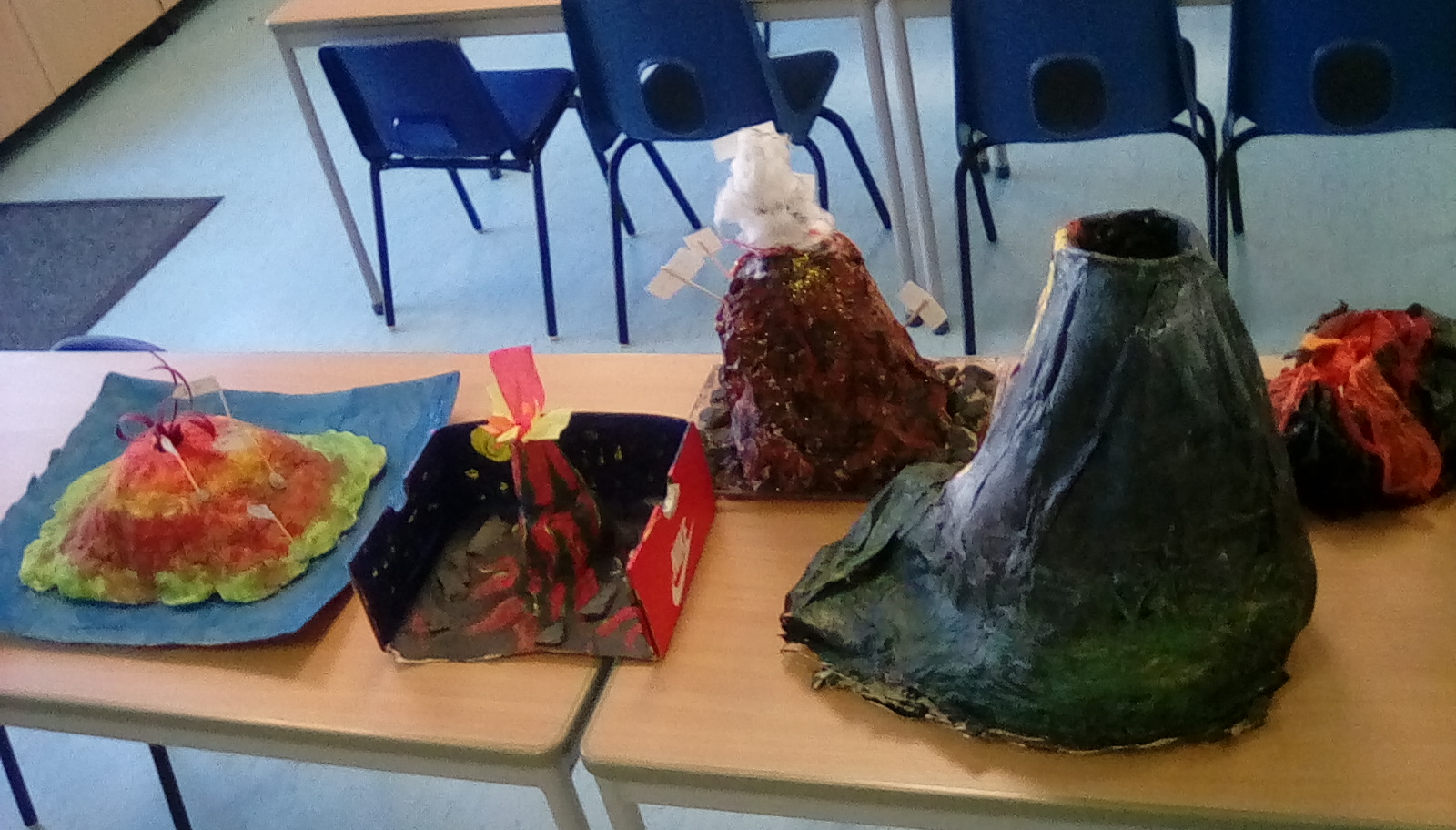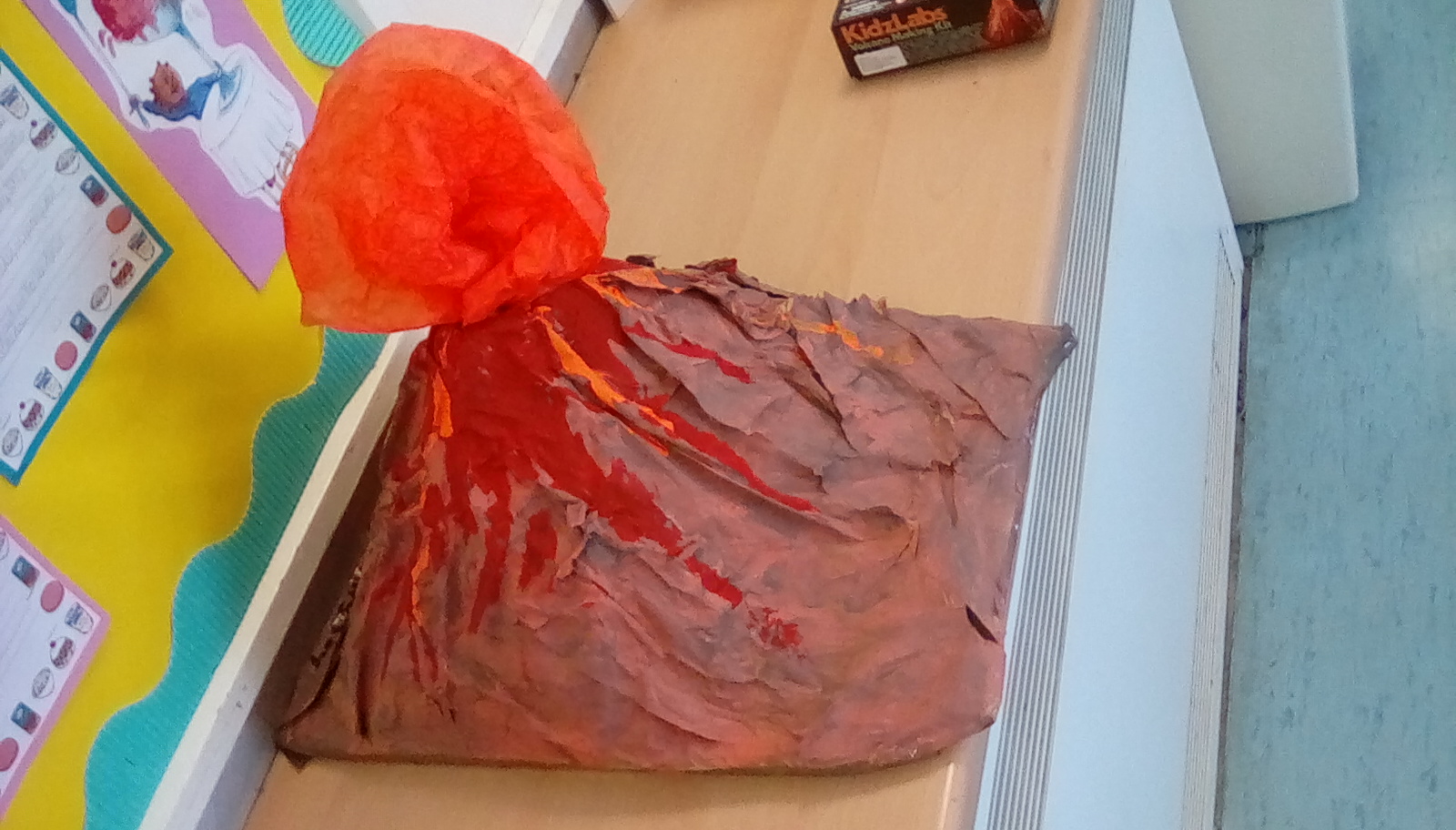 Continuing our policy from last term, we encourage the children to hand in home learning in person to the class teacher every Friday. However, if you still wish to upload to Edmodo, you can do so. We celebrate the children's home learning every Friday morning with prizes and awards. Many of the items are also displayed in the Year 3 classrooms and block area.
Each week, children should:
Read aloud to an adult regularly (daily if possible)
Practise the weekly spellings (using Spelling Shed)
Practise times tables (using Times Table RockStars)
Complete one of the tasks from the term's Home Learning sheet
Topic Home Learning will be shared at the start of each term with clear guidance on what is expected each week. Every week, the assignment for that week will be shared on Edmodo.
Topic Home Learning should be handed in by the Friday of each week. Children can share with the teacher on Edmodo OR HAND IT TO THE TEACHER DIRECTLY.
Spellings will be set on a Friday and tested the following Friday. The children will have logins to access Spelling shed, along with this, a list of spellings will be available to practise on Edmodo. The children will also have the opportunity to practise their spellings on Tuesdays in the computing suite.
Children are expected to practise their multiplication on Times Tables Rockstars.
Useful Links
Below, you can find a number of useful links to help support your child's learning:
Useful Links

Topic Web
Our Termly Topic Web outlines how the topic of the term will play into each subject. It acts to outline what will be studied across the curriculum in the term. Our current Topic Web can be found in the attachments below: