Welcome to Year 6!
Pioneer Class
Teacher: Mrs Willson and Mr Gates
Teaching Assistant: Mrs Broom
Maths Group: Mrs Bradshaw
Discovery Class
Teacher: Mrs Gulvin
Teaching Assistant: Mrs Garrett
Maths Group: Mrs Bradshaw
Welcome to Term 1 in Year 6.
Term 2: World War 2
Following a hugely successful term learning about the Great War, the children will continue the historical focus by learning about the Second World War. To begin with, we will explore how the end of WW1 led into WW2 and then go on to learn about Winston Churchill, the Battle of Britain, Dunkirk, the Blitz and Evacuation. This is a rich and exciting topic that always enthuses and grips the children - we can't wait to explore it with them.
In English, our key text for the term is the evocative and thought-provoking book: Rose Blanche. This will inspire the children as they develop their skills in diary writing, descriptive writing, poetry composition and explanation text writing.
In Maths, our key areas of focus will be division and fractions. Will will begin by recapping short division, before going on to secure learning about how to solve problems that require long division.
For a full outline of what the children will be learning this term, please see the Topic Web for the term. This can also be accessed below and downloaded as an attachment, as well as knowledge mats for our different subjects.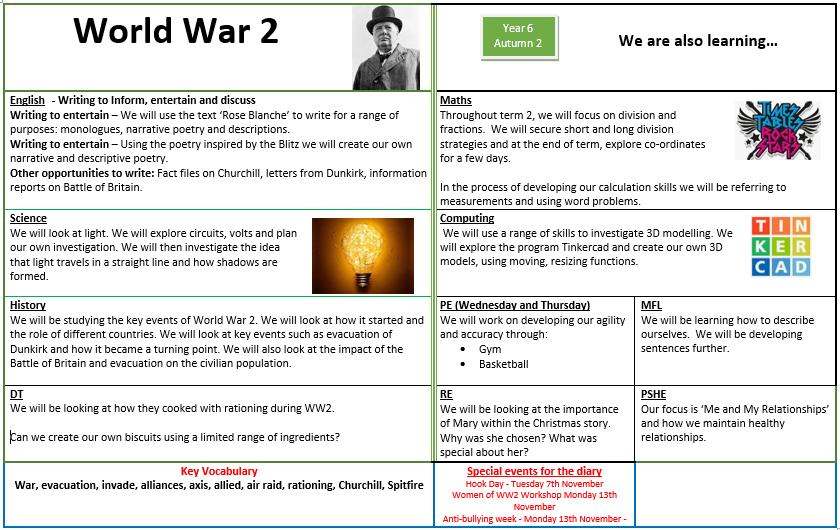 Key Upcoming Dates:
Hook Day - Tuesday 7th November
Women of WW2 Workshop Monday 13th November
Anti-bullying week - Monday 13th November - Friday 17th November
Websites for Revision
IXL have separate pages of skills linked to individual Year group. The Y6 page has links to practise both English and Maths skills. Pages are then split into skills of which has a practise question for the children to think about.
https://uk.ixl.com/promo?partner=google&campaign=1187&adGroup=Key+Stage+2&gclid=CPPa8teS_8kCFQbnwgodgOIB6A
BBC Education have produced a whole host of materials for KS2. Follow the KS2 link and then select either Maths or English. Each area usually has an information section for reading, plus an activity and then quiz which is marked online. Some aspects require a subscription.
http://www.bbc.co.uk/education
A site with both Maths and English based quizzes which are marked as you go along.
http://www.educationquizzes.com/ks2/maths/
A site with a range of information and questions – great for revision purposes!
http://www.icteachers.co.uk/children/children_sats.htm
A revision site based upon the old Key Stage 2 Tests but still contains lots of useful information for both Maths and English. http://resources.woodlands-junior.kent.sch.uk/revision/
A site with links to Maths and English revision materials, including worksheets to look at online or to print off and practise with. http://sats.highamstjohns.com/
Click on "For Kids" to access some fun games to practise speed of recall of times tables.
This site has loads of Maths games which help to practise a range of skills.
http://www.mathplayground.com/games.html
Loads of Maths games on a range of Mathematical concepts.
https://www.sheppardsoftware.com/math.htm
Lots of individual revision videos, worksheets, quizzes and answers related to all the maths topics.
https://corbettmathsprimary.com/content/